Stocks have just dropped sharply a few hours after the open on Wall Street. So far it is not clear what's causing the move, but with safe haven gold continuing to rise over the past several weeks, it is clear that some investors are clearly worried about something. Chief among the worries is the implications of the outbreak of coronavirus in China.
Clearly, the impact of coronavirus is damaging to the Chinese and global economies. The prolonged lockdown should lead to a fall in aggregate demand and currency market participants have been pricing this in, with the yuan weakening recently and gold rising.
Concerns over the contagion of the disease means it is a global issue, not just a Chinese one. Thus, the tourism and airline industries which are already feeling the impact could get hit hard as a result of fewer inbound flights from China.
So far, the impact on stocks due to concerns over the virus have been dampened by ongoing central bank intervention and their excessive liquidity flooding the markets. But today some investors have thought twice about buying stocks at these elevated levels.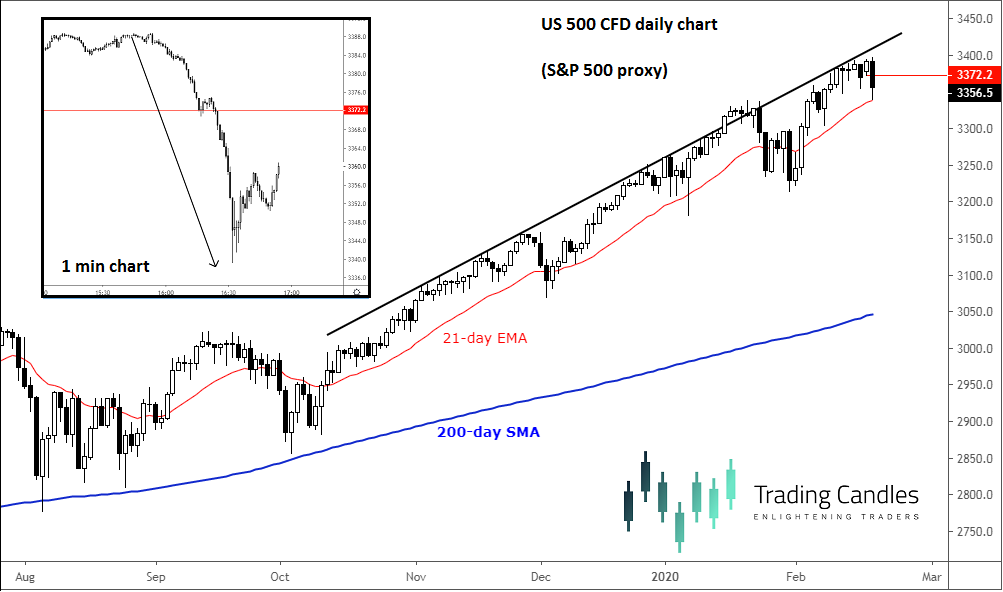 Key technical points
3372 prior support breaks
Index testing 21-day exponential moving average
Long-term trend still bullish
Part of the sell-off can be explained away by technical selling. With the major indices repeatedly hitting new highs in recent days, profit-taking was always going to cause excessive moves once a key support level was broken. One such level was at 3372 on the S&P 500, the low from the day before. With this level broken, it is likely that a bunch of stop loss orders were tripped, triggering a sharp technical move to the downside.
It is too early to say whether this is the start of a major correction, or just a small dip before the trend resumes. The technical damage has been minimal so far, but things could get ugly given how fast the move has happened.