The price of oil is falling sharply again today after a few days of consolidation. The reason is simple: there is a massive imbalance of historic proportions. Global demand has slumped because of the covid-19-related lockdown. Supply, which was already higher than needed, is currently excessive to say the least as Saudi, Russia and the US fight to win market share. The weakness is likely to persist for a while yet. Prices will only recover meaningfully if (1) demand recovers when coronavirus cases fall across the globe and the lockdown is lifted, and/or (2) the excessive supply is addressed. The latter can happen if US shale production slumps in response to collapsing prices, which is likely but will take time given the high level of existing inventories. So, I think WTI is very likely to test $20 and possibly fall below that psychological handle in the coming days or weeks. In any case, I don't expect a speedy recovery until the above conditions improve.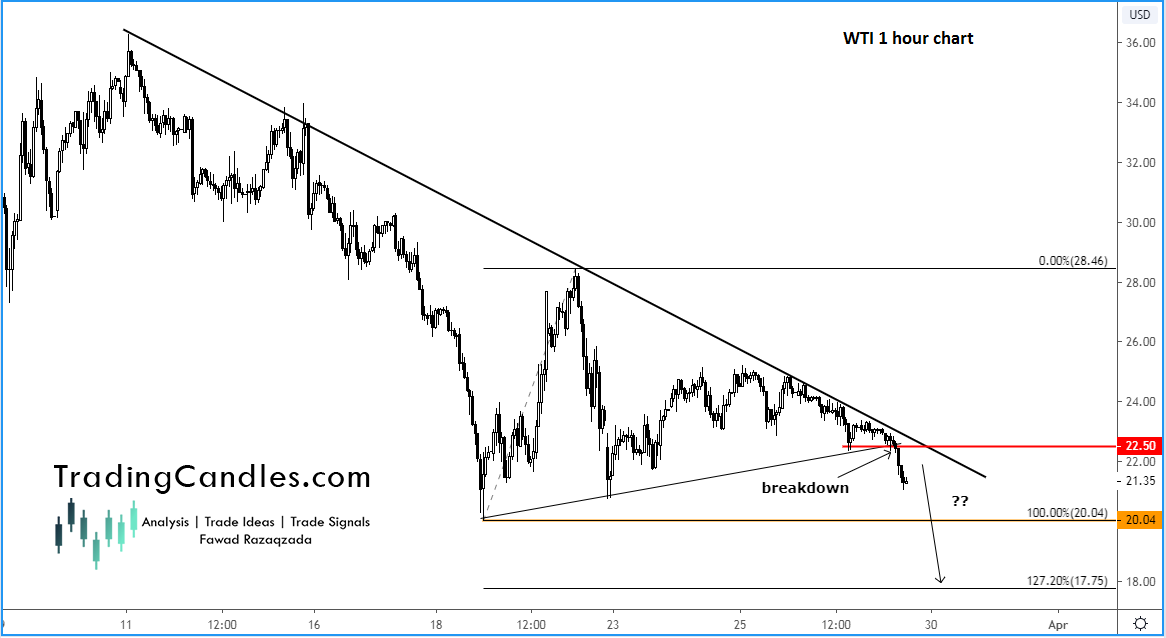 Before this latest breakdown happened, I posted a trade alert to subscribers. Here is how the trade is currently looking:
If you want to learn how I analyse the markets, contact me for a private session over Skype or in person. Alternatively, you may want to see how I turn these analysis ideas into actual trade ideas by subscribing to my premium trade signals service.