Crude oil prices jumped 5% at the Asian open then fell around 2-3% in the immediate reaction to the OPEC+'s historic decision to cut oil output by 9.7 million barrels a day, just shy of the initial proposal of 10 million bpd. Though the reaction hasn't been great, I think crude prices will likely climb higher from here as the Saudi-led price war has ended for now.
Yes, demand is crippled because of the coronavirus outbreak, but don't forget that the markets are forward-looking. China seems to have won the battle with the invisible enemy and if things turn back to normal there then oil demand will surge. In Europe, Italy seems to have turned the corner too, and the number of new coronavirus infections in Spain have fallen to a record low since the outbreak began. The worst could be behind us now.
Yes, supply of oil is currently excessive. But if demand starts to recover and with the supply of oil set to fall over the next couple of years, there could be a supply shortage (unlikely but possible).
But as Saudi's Energy Minister Prince Abdulaziz bin Salman said, the historic agreement demonstrates that OPEC+ is "up and alive." You also have the U.S. supporting the OPEC+ by apparently agreeing to cut its production by 300K bpd after Mexico's standoff. In other words, the price is over. At least for now anyway.
Against this backdrop, I can't see how oil prices will remain at their current levels for long. That's unless covid-19 returns with a vengeance and death rates spike again.  
Now from a trading point of view, Brent has fallen to test liquidity below Thursday's low of $31.22 at the time of writing. This low was made on Thursday when the news first emerged of the 10m bpd cut. If I am correct, this breakdown could be a bear trap.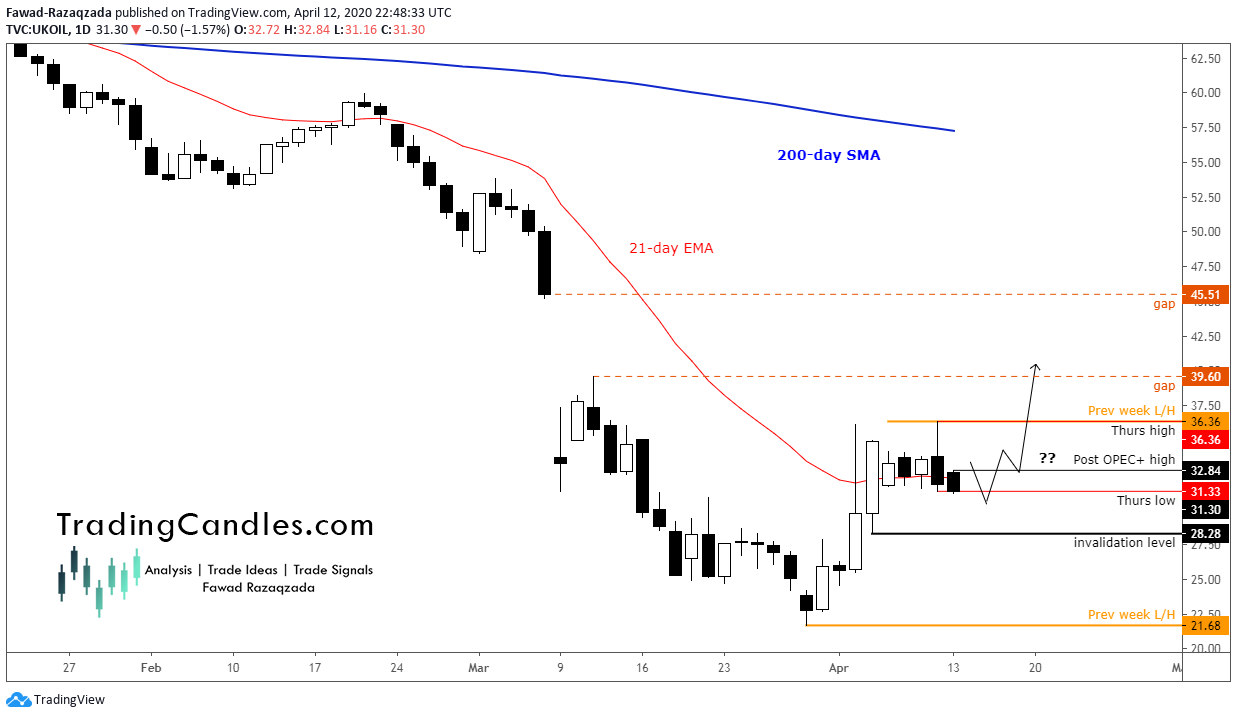 So, watch for prices to quickly recover and if we go back above the initial spike high of $32.84 then the shorts will be squeezed in my view. Brent will then likely head to levels where trapped sellers will have their stops resting, such as above the high of Thursday at $36.36.
However, if prices don't react the way I have envisaged, and go on to break below $28.28 then at that point I will drop my short-term bullish view on oil prices until further bullish price action unfolds (though I will remain fundamentally bullish regardless as I think the downside is limited from here).
I have issued a long WTI trade signal for subscribers
If you want to learn how I turn these analysis ideas into actual trade ideas, subscribe to my premium trade signals service. Alternatively, if you want to learn how I analyse the markets, contact me for a private session over Skype or in person.