I wated to share some thoughts on the cable as it is in line with how I look for trade ideas and hopefully you might learn a thing or two from this article. Although I could be completely wrong about this, I have seen such setups many times to make me confident about what I have said in the title. So, without further ado…
The GBP/USD fell today as concerns over a no-deal Brexit intensified. However, the headlines that emerged this morning were the same sort of headlines we have repeatedly seen in the past, so I was a bit surprised to see the cable drop as sharply as it did. Granted, time is running out, but I still feel a deal will be clinched in the last minute. For that reason, I am expecting the GBP/USD to rip higher in the coming days.
According to Bloomberg:
British and European Union officials are racing to strike a post-Brexit trade deal before the start of next week, with EU chief negotiator Michel Barnier telling envoys the outcome is still too close to call.

While intensive, round-the-clock talks in London are making progress, genuine disagreement remains on fisheries and a level playing field, meaning it's impossible to predict an outcome with any certainty, people with knowledge of the discussions said. A third issue — how a deal would be enforced — can only be overcome at the end. However, two officials said the general mood on both sides is one of optimism.
But for the purpose of this article, I wanted to talk purely technicals and why I think the double top that you can see on the hourly chart of the cable could be a bear trap: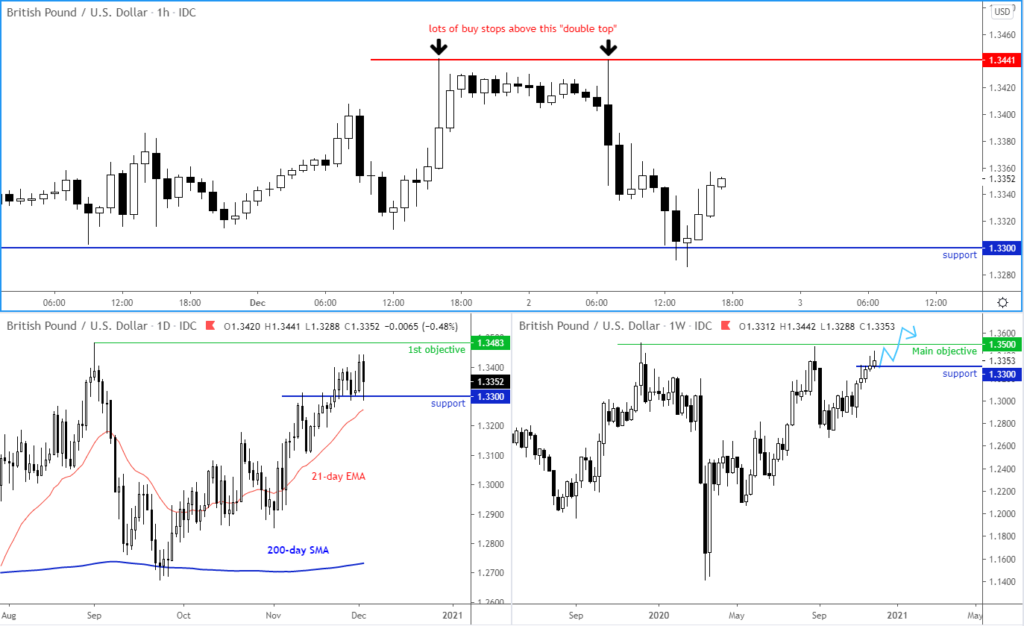 As you can see, the cable turned sharply lower intraday after it formed what many would regard as a double top on the hourly time frame, at 1.3441. While this could have been traded and I am sure many people did trade is successfully, I think this is merely a temporary top ahead of a much larger rally. Again, I could be wrong, but hear me out.
This is very similar to the false hope the EUR/USD gave to the bears on Monday, when it formed an inverted hammer, only for price to then rip higher past the 1.20 handle in the very next day, something which I first highlighted HERE, and warned my subscribers in the private group, before sharing the "after" chart on twitter:
With regards to the GBP/USD, the fact that this "double top" has happened just below the recent highs that you can see on the daily and weekly charts, this suggests that it is yet another trap to get the sellers excited, before price potentially rips higher to take out their stops – possibly as early as Thursday of this week!
I think the cable is headed above 1.3500 from here, because we are so close to those prior highs. Usually, but not always, price takes out liquidity (i.e. stop orders) that would be resting above big levels before turning – something which hasn't happened yet.
So, any short-term bearish-looking price action should be taken with a pinch of salt – such as this "double top." Consequently, I believe we will see new highs on the cable in the not-too-distant future, possibly as early as this week.
---
If you want to learn how I turn my analysis reports and videos into actual trade ideas, subscribe to my premium trade signals service