Things have settled down with global stock indices extending their advance following Monday's big upsurge and risk-sensitive currencies are also pushing higher. Investors are betting that the coronavirus outbreak may have peaked and are ignoring the economic slump that we are in. They are hoping that with the death rate falling in parts of the world, things will start to go back to normal soon and there won't be any further virus outbreaks. They are also hopeful that the recent actions of governments and central banks will help to reduce the impact of the economic slowdown. So, in some ways, rebound makes total sense.
However, I wouldn't be surprised if the rally were to end abruptly because the economic impact of covid-19 is going to be severe as some of the recent macro indicators have shown. So, while it may be risk-on right for now, be prepared for a potential drop in risk appetite later on in the week. Not everyone will be confident to buy and hold stocks in this market environment, and many will be happy to take quick profits.
That said, momentum is with the bulls currently. The bears must remain patient until at least such a time the major indices create bearish reversal patterns on their daily charts again.
Indeed, if anything, some of the major indices have broken their key resistance levels, suggesting the momentum is with the bulls. Below, for example, the UK's FTSE 100 chart shows a break above a triangle pattern and old resistance around 5660-5705. This area is now going to be first major line of defence for the bulls. The index has also reclaimed the 21-day exponential, which is another objective sign of changing direction. Up next, the 38.2% Fibonacci level against last year's high comes in around 5910.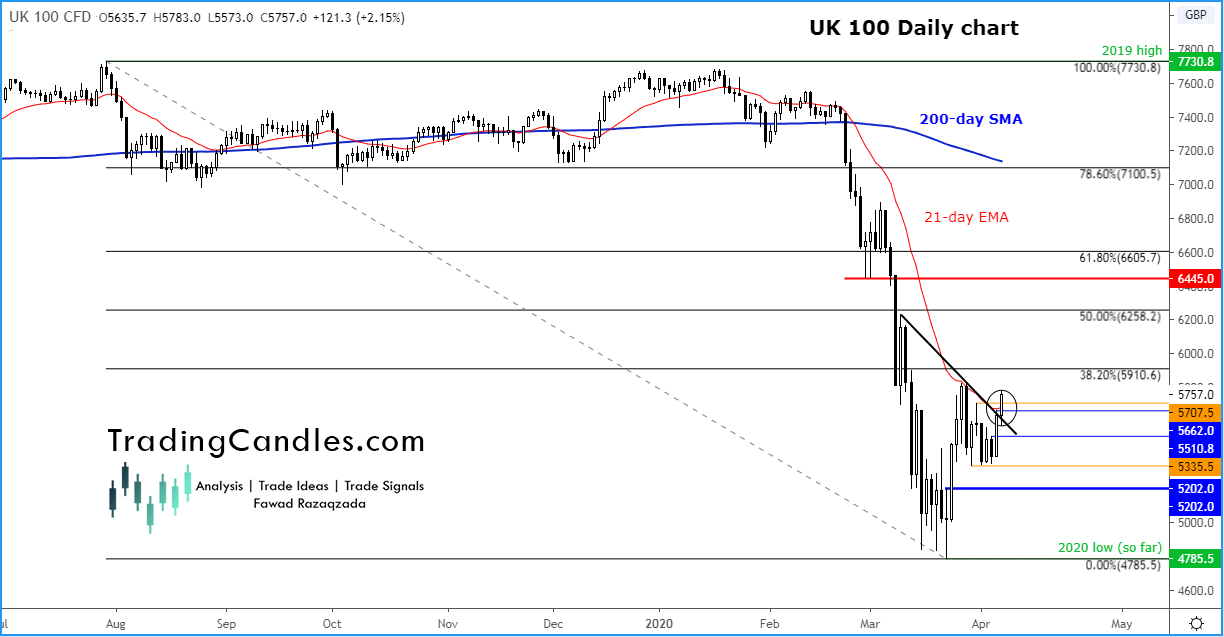 Ultimately, though, the longer-term technical outlook remains bearish with the index being below the 200-day average and lots of other key technical levels. Thus, the latest rally could run out of steam soon, especially if covid-19 and the lockdown remain in place longer than expected. But we must see that reversal stick before turning bearish again.
---
---
If you want to learn how I turn these analysis ideas into actual trade ideas, subscribe to my premium trade signals service. Alternatively, if you want to learn how I analyse the markets, contact me for a private session over Skype or in person.