I was going to write an analysis article on the EUR/CHF, but ended up writing a little about reasons why you should look to enter a trade BEFORE a breakout takes place, rather than waiting for confirmation first. So, this can be a good educational article as well as providing you with some analysis on the EUR/CHF. My hope is that you will learn a thing or two from reading this piece.
Waiting to pull the trigger is important under certain conditions, especially when you are not so sure about the directional bias. But if you have a strong conviction about something then why wait? Indeed, you can double up when you are proven right. More on this later, but let's start by doing some analysis on the EUR/CHF first.
EUR/CHF rises from the ashes
If you have been involved in the financial markets longer than a few years, you will know all about the EUR/CHF. Unfortunately, this once famous currency pair has become the forgotten one after spending the best part of the past year in a tight consolidation, and not moving too much before as well.
Well, things have changed dramatically for the EUR/CHF this week. The forgotten currency pair has risen from the ashes and surged higher over the past couple of days:
The good news for traders is that now you have one more major currency pair to add to your watch list. The even greater news is that the very long period of consolidation and now the bullish breakout means it is highly likely to continue higher for weeks and possibly months to come. Thus, it should provide you with plenty of trading opportunities. So make sure to buy any future dips back to support (obviously without forgetting your stop loss as well as risk management and money strategies).
I actually wrote on the EUR/CHF on 9th Feb before the breakout happened, in this article HERE. This was the monthly chart I shared then:
The updated monthly chart, below, shows rates have indeed now taken out the key resistance range between 1.0850 to 1.1000 area as we had envisaged. This came after the long-term bullish trend had been defended for several months. With such a strong resistance area having been cleared, future dips back to this zone could be defended ahead of more potential gains.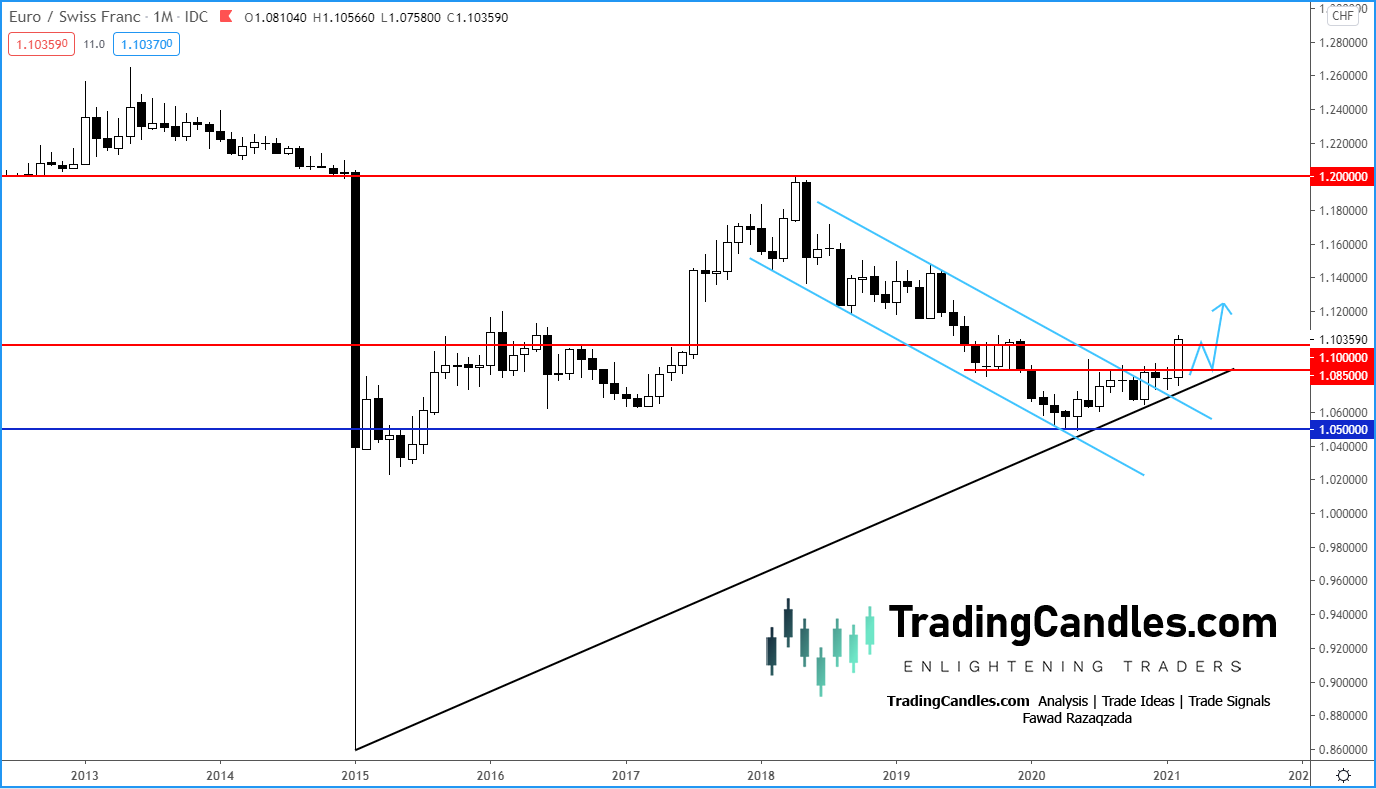 Luckily, at least some of the ledges in the private group managed to catch the big breakout after I issued a bullish or long trade signal on 9th Feb: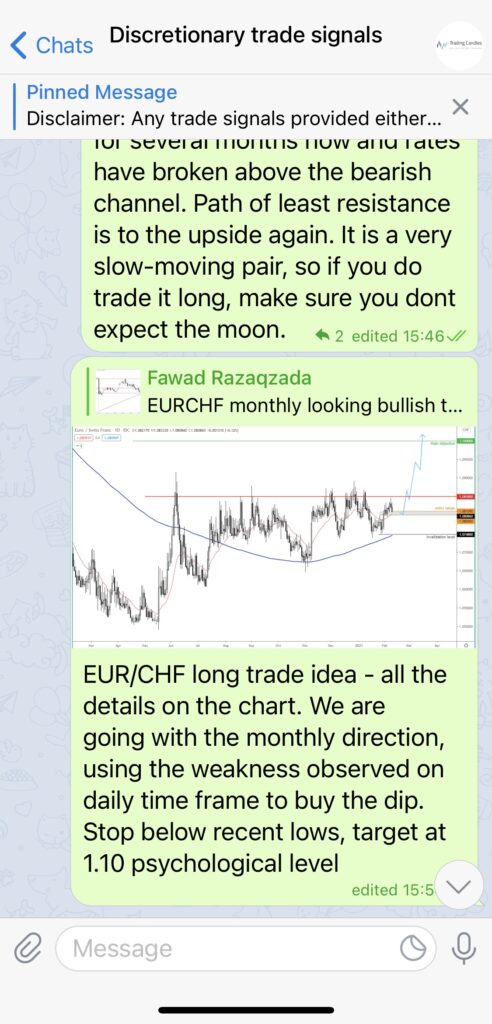 That was the before and below is the after chart, showing you how the trade evolved – providing a good +190 to +200 pips: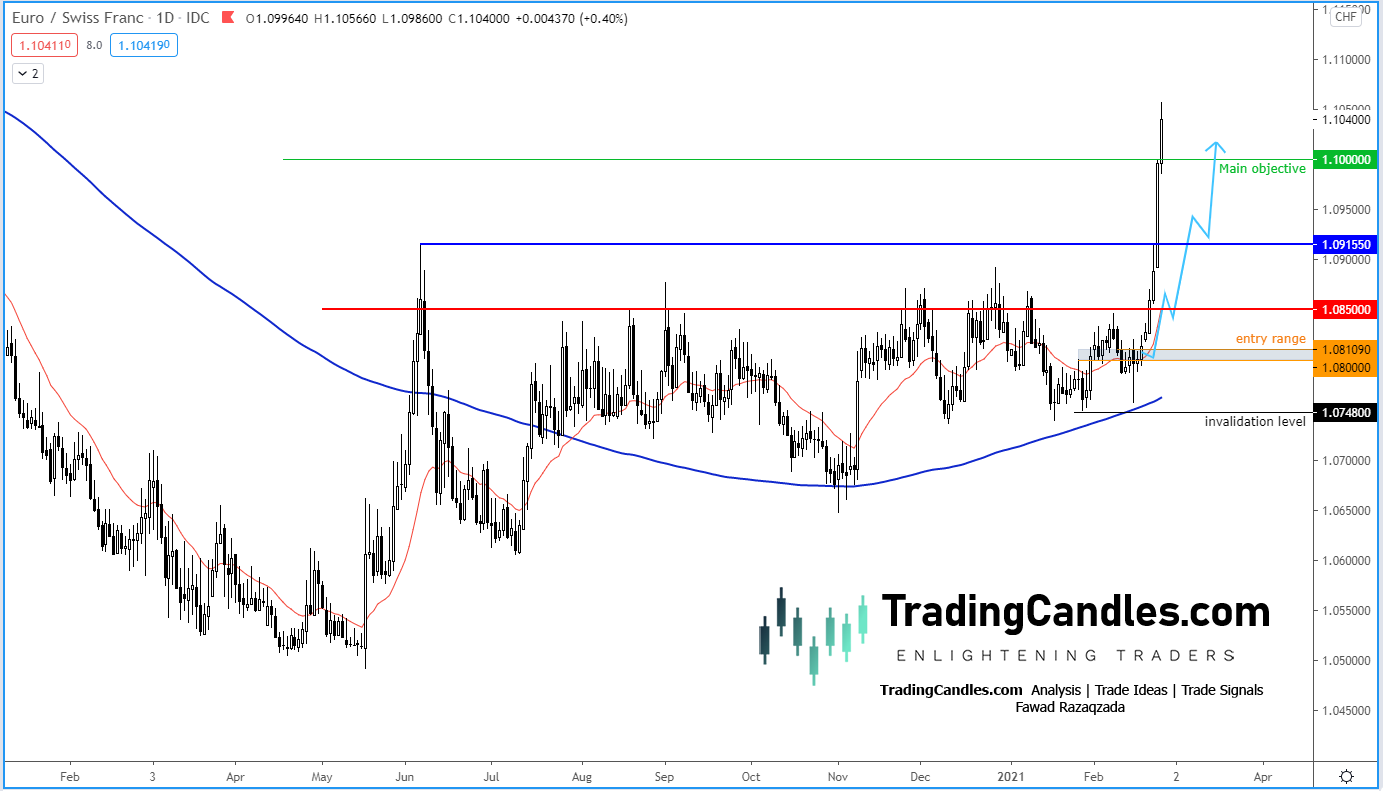 Why entering before the breakout is important
The reason I have shared the above charts is to make a couple of important points here. Firstly, if your conviction is strong, you don't need to wait for the breakout to happen before getting on board. Yes, you might end up tying up your capital sometimes by going in prematurely, but if you happen to be in a trade before a big breakout like this happens, then (1) you can potentially make a killing, and (2) you can take partial profit and finance the trade before everyone else joins in, allowing you to turn the swing trade into a long term position trade. This way of trading means you can add to your partial position at a later point in time and still have a very good average price. For example, after a short term pullback following a massive rally. This can help keep you in a long term trend that could potentially become very profitable.
This is why I encourage my subscribers to keep a portion of some of their trades open just in case something like this happens.
Actually, while we are on this subject, allow me to share the before and after charts of the GBP/USD to show you how we managed to turn a short term trade into a long term one and in doing so managed to capture a big portion of the rally: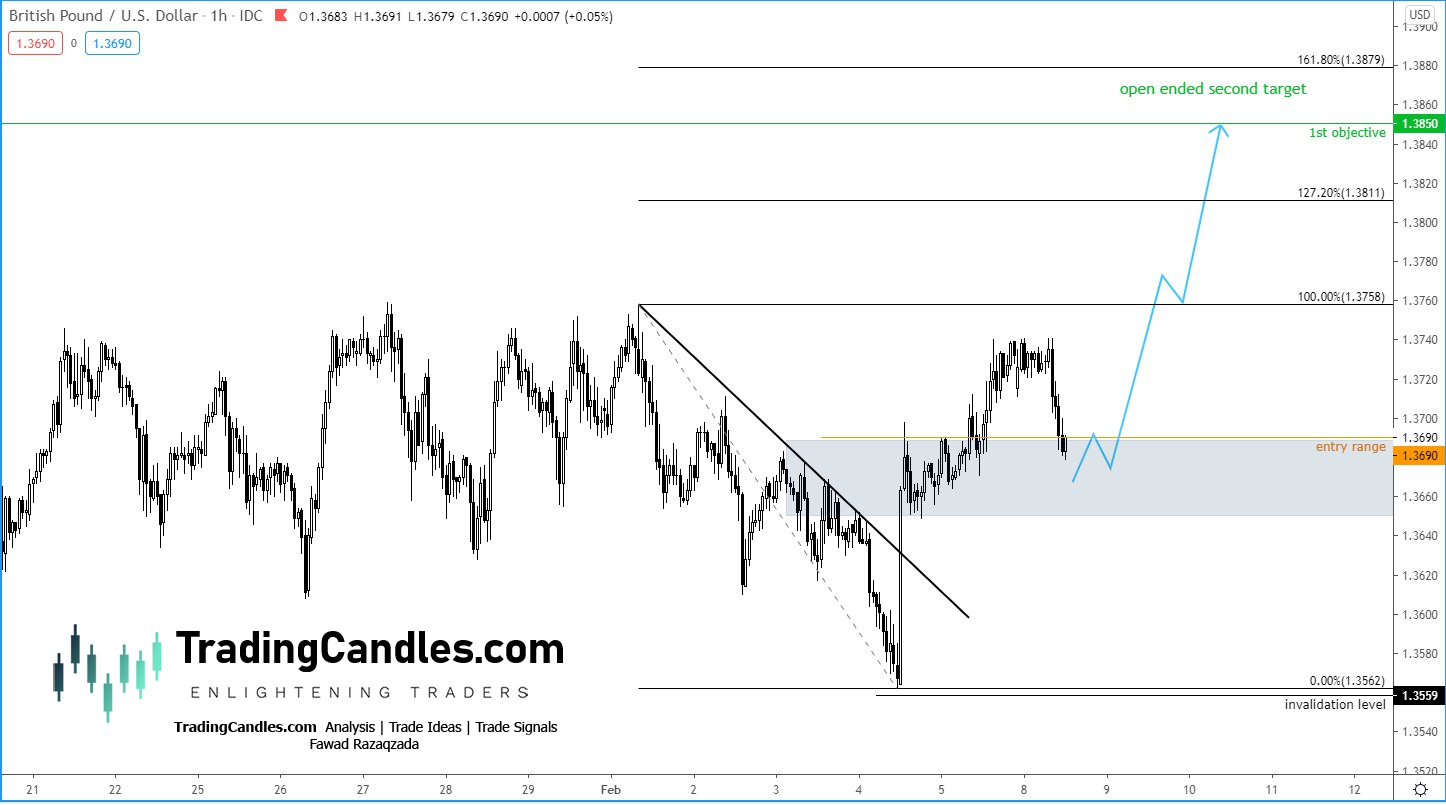 Another example of turning a short-term trade into a longer-term one is the EUR/GBP, which we opened January 14th. Here are the before and after charts of that particular trade: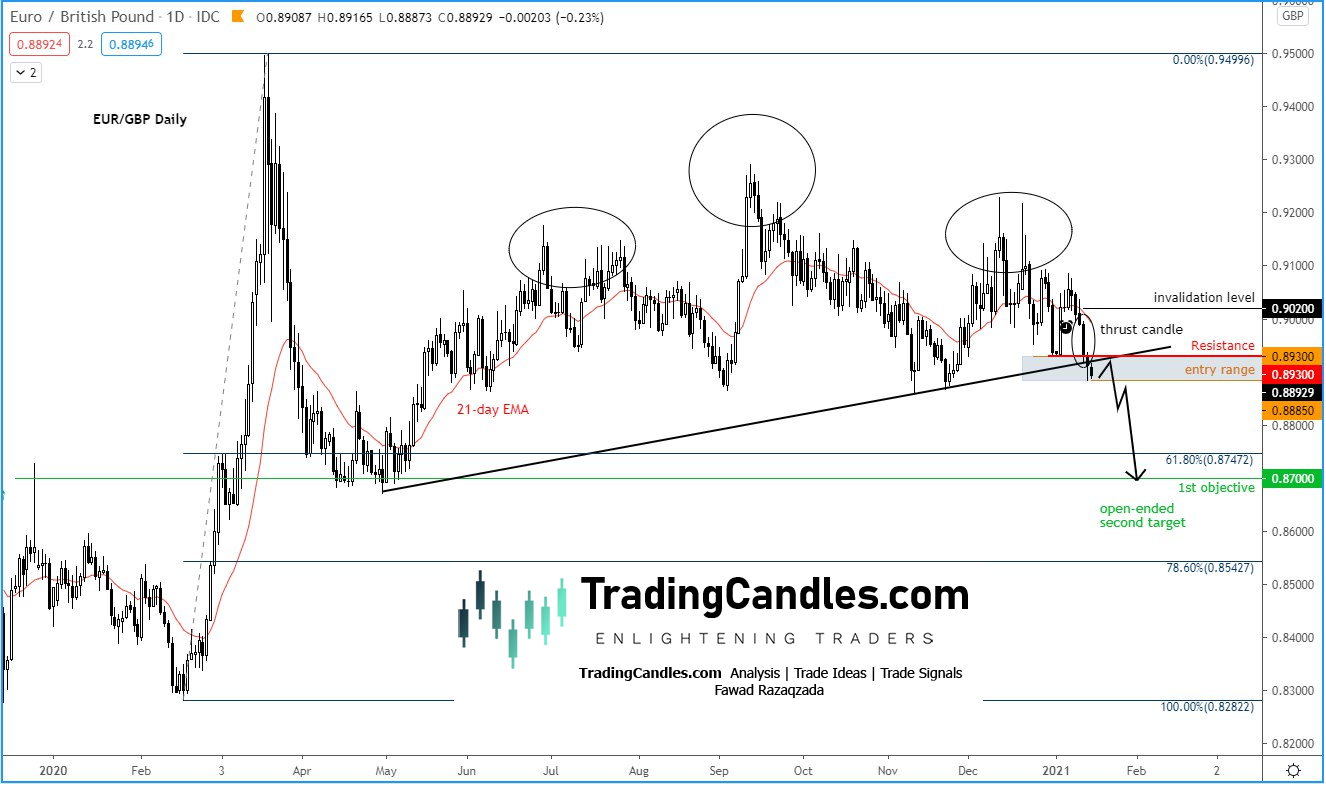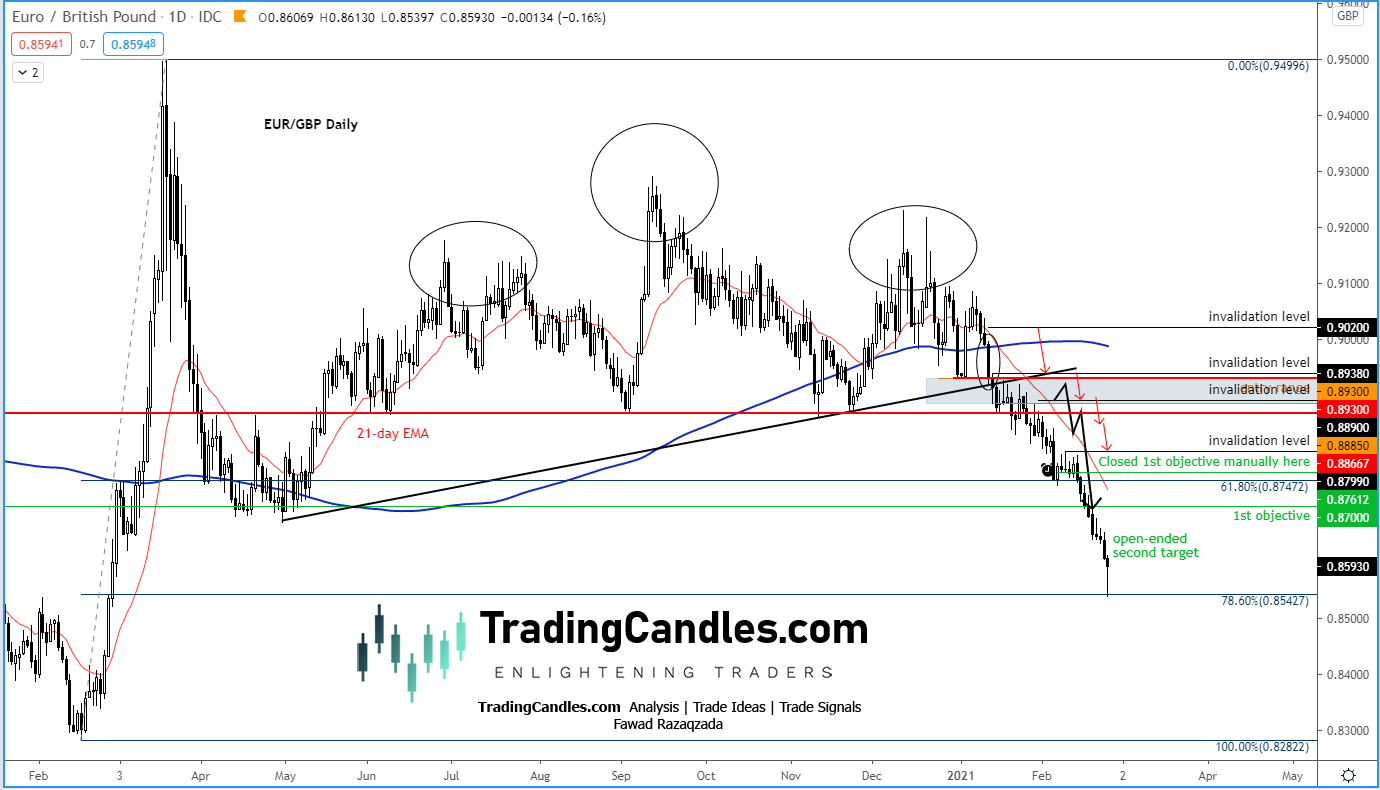 Final words
So, the key take-away point from the article is this: While waiting to pull the trigger is important under certain conditions, if you have a strong conviction about something then don't hold back. By going in before the breakout happens, you can double up when you are proven right and at a much later time add more to your existing position that you might hold a partial of, after a short term pullback. This way, you could turn a short term trade into a position trade, putting you in a position to be able to capture a potentially big move.
---
If you want to learn how I turn my analysis reports and videos into actual trade ideas, subscribe to my premium trade signals service